Good Boat Insurance = Peace of Mind

Purchasing a boat is a major financial decision for most of us. Probably right on the same scale as buying a house or a car. Like a house or a car, we want to protect the asset and ourselves. However, like many things marine, boat insurance comes with its own specialized terms and conditions.
(If you are seeking information on Travel & Health Insurance, click here.)

Please Read This

I am NOT a marine insurance agent or broker. The content of this website is provided for information purposes only. It is not intended to provide specific insurance, investment, tax, legal, or accounting advice to users, and should not be relied upon for that purpose. Readers should not act or rely on the Information without seeking the advice of a professional. Use of any information obtained from this website or from websites linked to this one is voluntary. Always get a qualified independent assessment of the accuracy & timeliness of such information before acting upon it.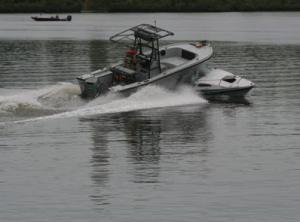 Like home and auto insurance, boat insurance serves two purposes. One is to protect the value of the physical asset (boat and associated equipment). And the other is to protect yourself from liabilities arising from mishaps that involve others – a guest injuring him/herself or you using another boat as a spare fender!
One option is to use the services of an independent marine insurance broker or marine insurance agency. There are also websites where you can buy online but nothing can take the place of an independent professional who can explain the details and various options available to you and their consequences. The goal here is not the lowest premium but rather the most appropriate coverage you require.
Insurance Requirements
One of your first decisions is "Am I required to purchase boat insurance?" None of the states that border the Great Lakes nor the province of Ontario require boat insurance. However, there are circumstances where you may not have an option. If you have financed your boat's purchase, the lender will almost certainly require you to have insurance in place, with them named on the policy. Many marinas also require proof of liability coverage before allowing you to stay.
Do not rely on your homeowners insurance policy. Other than small vessels, boats of any significant size will be excluded from your home insurance. The liability coverage will also be quite limited.
A boat insurance policy has two components: Hull & Machinery (the boat and its equipment) and Liability – referred to as Protection & Indemnity. When dealing with Hull & Machinery coverage, you will encounter two particular terms: "Actual Cash Value" and "Agreed Value". There is a significant difference between these.
Actual Cash Value means the original value when insured MINUS full depreciation. This means that if you paid $40,000 for your boat and it was a total loss 5 years later, that $40,000 purchase price would be reduced by annual depreciation to perhaps $31,000.
Agreed Value means that you and the marine insurance company have agreed (by way of the contract) on the insured value of your boat. In the event of a loss, regardless of how long after the contract was signed, that Agreed Value is what the insurance company will pay out. In the example above, you would receive the full $40,000.
Generally speaking, in my opinion, Agreed Value is the better way to go. If your $40,000 boat is lost, you want to replace it with another $40,000 boat. You have replacement value on your home (right?) so why not have the equivalent on your boat. (Not sure about what you have on the house? - break out those policies and read them.)
Risks Covered

Policies can be written on an All Risk basis or on a Named Perils basis. The former covers you for everything except certain identified risks. The later covers you only for the risks that are identified. The former is a better coverage – just make sure you know exactly what is excluded.
Coverage

Another aspect is identifying what equipment is covered. Typical coverage would be for engines, generators, equipment normally used for navigation and safety and for furnishings built in to the vessel. Read the policy to determine what is covered and what is excluded. Not all policies are the same.
Towing and Salvage.
In my opinion, you should have a policy that covers salvage. Salvage is a complex area of marine law and legal fees can rise exponentially. Much better to have a good marine insurance policy that takes that burden off your shoulders. There is no point in being covered for the full loss of your vessel but then having to pay thousands of dollars in salvage fees if your boat is now a hazard and has to be removed from its location.
The same applies to towing. A tow operator could turn your tow into a salvage claim leaving you on the hook for fees that represent a huge part of the value of your boat. Again, having a boat insurance policy that addresses this (and an insurance company that backs you) is simply prudent.
Identify which services you will be responsible for obtaining. I not only want reimbursement – I also want a marine insurance expert who has all of these services at his/her fingertips and can engage them immediately with a few phone calls. That is far better service than being expected to make those arrangements yourself from a fly-blown phone booth with a missing phone book.
Environmental Hazards
Something that many boaters don't take into account are the environmental hazards that may accompany a major incident. Ruptured fuel tanks pouring diesel fuel into the water is a major concern of environmental agencies in all Great Lakes states and the province of Ontario. The regulations are quite stringent and the cost for specialized cleanup can be quite high. Make sure your policy addresses this.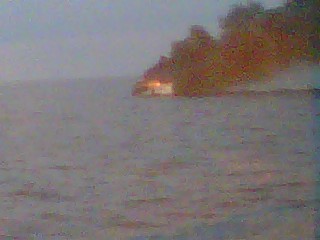 This was a 35' power vessel. By the time our CCGA patrol boat arrived, the couple on board had already jumped for their lives. All that remained was a woman in serious shock and a spreading fuel slick. Environmental protection assets were called in from as far away as 30nm.
Liability

The liability portion of your boat insurance policy covers you for liabilities arising from your ownership, maintenance and/or operation of your boat. This will cover injuries sustained by others, property damage caused and the legal fees incurred in defending yourself. We all know how easy it is for someone to lose their balance or slip and fall. And we all have read stories about massive awards being handed down in court cases. In my opinion, the maximum amount of coverage available should be carried. Frequently the cost of moving from the lowest or a mid-level coverage to the highest is not particularly significant – especially when you consider the consequences of a damage award against you that is only partially covered.
Generally speaking, you cannot purchase Liability coverage without Hull & Machinery coverage
SOME OTHER CONSIDERATIONS
Coverage Area

If you are going to cruise extensively, you don't want a policy that limits you to a small cruising area. Also, if a trip down the 'ditch' (Intracoastal Waterway) to enjoy the warm Caribbean waters is in your plans, be aware of any restrictions in your policy about hurricanes.

Uninsured Liability

As boat insurance is optional, you just have to know that there are operators on the lakes that carry no boat insurance at all. To protect yourself in the event of a collision with such a boater, check if your policy has coverage for liabilities caused by an uninsured boater.
Discounts

There maybe discounts available that can reduce your premium without affecting the quality of coverage. However, often you have to ask for them – so ask. Some companies will give you a premium discount based on your automobile insurance record. This is based on the premise that if you are a responsible driver, you will be a responsible boater.
Many companies will offer discounts for boater education courses that you have taken. Courses such as navigation, weather, seamanship, etc from recognized organizations can only help improve your boating skills making you a much better risk to insure. In Canada, courses offered by the Canadian Power & Sail Squadrons or the Canadian Yacht Association are excellent learning programs. In the United States, look at the courses offered by the United States Power Squadron, BoatUS and the United States Coast Guard Auxiliary – all are highly respected courses.
SUMMARY
Boat insurance is a vital component of your sailing experience. There are risks associated with sailing that can lead to severe financial consequences. It can be a complicated subject but it is well worth the effort to understand the basics. There are boating organizations that focus directly on our needs as sailors and include insurance programs tailored for boaters.
In Canada, the Canadian Power & Sail Squadrons offer a boat insurance policy designed specifically for boaters. In the United States, both the US Power Squadrons and BoatUS have developed similar insurance policies. As these are the three premier organizations for boaters, they are a good place to begin your search. As an additional note, membership in the Canadian organization is open to fellow boaters from the United States as is membership in the American organizations for Canadians.
Speak to fellow boaters and ask who they deal with for insurance. Competent, professional insurance brokers who specialize in marine insurance will take the time to explain things well for you and work with you to craft coverage that fits your circumstances

When you sail, keep a copy of your boat insurance policy with your ship's papers. You just don't know when you will need it. Hopefully never.

If you have had experiences with a boat insurance policy or company or with marine insurance brokers serving you, please consider sharing them.

Return From Boat Insurance to Home Page