Rhumb Line
a course that keeps a constant bearing

---

The Rhumb Line for Great Lakes Sailing is clear: to provide a comprehensive listing of ports around the Great Lakes basin and articles that cover a broad range of topics of interest to sailors.

The purpose of Rhumb Line is to keep you up-to-date with new additions to Great Lakes Sailing in a brief, easy-to-scan and concise manner. I value not only your interest but also your time.


---
April 2014    New at Great Lakes Sailing

April has been a busy month at Great Lakes Sailing. I visited several ports and 6 new Port Reviews were added.

One port is Port Burwell on the north coast of Lake Erie. Port Burwell is now home to decommissioned HMCS Ojibwa, an Oberon-class submarine. Standing beside her at her new dry dock home, you certainly get a sense of her size.

A new section, THE GALLEY, dealing with this vital aspect of boating, has been added and a Provision Planning Spreadsheet has been added to the FREE RESOURCES.

Following presentations from both Canadian and United States customs authorities, there are updates to BORDERS section.
---
1. New Ports

(a). Honey Harbour, ON is a gateway to the stunning 30,000 Islands. It offers a well-protected harbour for sailors who decide to explore the waterways of this summer mecca. Click here to visit Honey Harbour, ON

(b). Want to sail on a War of 1812 schooner? Stop by South Haven MI and visit the Michigan Maritime Museum and step on board this top-sail schooner that fought under both American and British flags.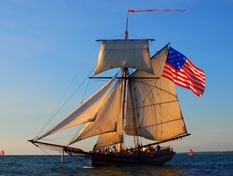 Friends Good Will was built in 1810 as an American merchant ship. In 1812, she was lured into Mackinac Island harbor and captured by the Royal Navy. She fought with the Royal Navy until Sept 1813 when she was captured by Commodore Oliver Perry at the Battle of Lake Erie. She served in the US Navy until 1814 when she was burnt in a British/Canadian raid on Buffalo.

You can visit the reconstructed replica at dock side or on local voyages. She is also a member of Tall Ships America and visits ports in the Great Lakes. The Michigan Maritime Museum runs an excellent seamanship training program for youth. Click here to visit South Haven, MI

(c). When you sail into Port Washington WI, you are entering the first man-made harbor in North America! And it is indeed a welcoming community for cruising sailors. Click here to visit Port Washington, WI

(d). With a magnificent beach and the cold-war submarine HMCS OJIBWA, Port Burwell ON can be an appealing stop-over along the north coast of Lake Erie. More about Ojibwa a bit later. Click here to visit Port Burwell, ON

(e). Ontonagon MI is a welcome harbor as you sail along the remote southwest coastline of Lake Superior. Lake Superior is a huge body of water – in surface area, the largest lake in the world. It is truly an inland sea. Distances are much greater, locations for supplies (especially fuel) and maintenance are fewer and much further apart and the range of weather and sea conditions much greater. Therefore, every port can be a welcome stop-over after days spent exploring Superior's rugged wilderness coastline. Click here to visit Ontonagon, MI

(f) Pointe Au Baril ON takes its name from the barrels of pitch that were set afire in the late 1800's to guide sailors in. Coming into this tiny port takes you 6 nm down some of the most picturesque scenery you can imagine. Click here to visit Pointe Au Baril, ON


2. The Cold War comes to the Great Lakes

The Elgin Military Museum is located in St. Thomas, ON. In 2012, they undertook by far their most ambitious project when they acquired HMCS Ojibwa, a decommissioned Oberon-class submarine from the Royal Canadian Navy.
Over the next 4 years, they overcame countless bureaucratic, technical and engineering challenges to bring her to Elgin County. Elgin County borders Lake Erie and two ports – Port Stanley and Port Burwell – competed to be her new 'home port'. In the end, Port Burwell was selected and today she towers 5 stories along the bank of Big Otter Creek. The Museum expects Ojibwa will attract up to 100,000 visitors a year to this pretty village by the lake. Ojibwa joins two other submarines serving as museum ships on Lake Erie – USS Croaker in Buffalo NY and USS Cod in Cleveland OH.


3. The GALLEY

Cruising is not camping! Some thought to safety, organization and efficiency in the galley can add immeasurably to your cruising. Whether its about safety, storage planning, provisioning or cooking, much life on a boat will revolve around the galley. As I have been assured that my talents lie in directions other than cooking, I will leave the recommendations for recipes, etc to other more capable hands. However, there is always a place for a good planning tool. I have developed a Provisioning Planning spreadsheet which is available on the FREE RESOURCES section.

If you have some good recipes, by all means, feel free to send them in (use the Comment form at the bottom of the page)


4. The BORDER

I recently attended a joint briefing by US Customs and Border Protection and Canada Border Services Agency. As a result, the section on BORDERS has been brought up-to-date to reflect that information. Designated Reporting Sites for entry to the United States have always been included in the BORDERS section. However, similar sites for Canada number over 200. What I have done is to list them in a separate document and added them to the FREE RESOURCES section with a link from the relevant BORDERS pages.

---

Thanks for reading Rhumb Line. Your opinions, thoughts and comments do matter. If you have any comments or questions, please feel free to contact me here at Rhumb Line or at Great Lakes Sailing

If you like this newsletter, please do a friend and me a big favor and "pay it forward."

If a friend DID forward this to you and if you like what you read, please subscribe. You will find a subscribe button on most pages of the site.


Fair winds and following seas.

Michael Leahy, Publisher
---