Rhumb Line
a course that keeps a constant bearing

---

The Rhumb Line for Great Lakes Sailing is clear: to provide a comprehensive listing of ports around the Great Lakes basin and articles that cover a broad range of topics of interest to sailors.

The purpose of Rhumb Line is to keep you up-to-date with new additions to Great Lakes Sailing and articles of interest in a brief, easy-to-scan and concise manner. I value not only your interest but also your time.


---
October 2016                New at Great Lakes Sailing


1. Summer Sailing

2. The North Channel

3. World Wind Map

4. Sailing Library

5. Romance of the Sea – Traditions, Customs and Sayings
---
1. Summer Sailing
For the past few months, I have been doing what I have so long advocated to others (you) – I have been sailing all summer!
This was our first full year with our new-to-us Hughes Columbia 10.7m sloop. Her home berth was up on the North Channel which is a solid 6 hour drive for us. As we live within a few blocks of Lake Ontario, we had to make a decision whether to move her south or not. The club (North Channel Yacht Club) was quite gracious in extending a summer membership to us. We decided we would see what it was like to keep her up north and, if things did not work out by mid-summer, there was lots of time to cruise her south to Toronto.
By mid-July, we knew we were not moving her! After a month and a half of 3 – 5 day sailing trips, we understood why the North Channel is considered one of the top 3 cruising grounds in the world! I have a few more comments about the North Channel below.

We elected to keep her 'up north' and convert our summer membership into a permanent membership. The fact that the club members are a terrific group of people sure didn't hurt either!



Arguably, the sailing season is a bit shorter due to weather but then again, I enjoy cooler-weather sailing. And, in mid to late September, the North Channel did not disappoint. Its a wonder to lie at anchor in a silent, isolated cove surrounded by forests. Ghosting along quiet passages in an early morning mist is hard to describe.




We hauled in October and, yes, the nights were nippy. But a glass of scotch before a crackling log fire in the clubhouse with some fellow-sailors made it special.

All too soon it seems, the yard is full of boats, the harbour quiet and we are back in the city. Oh well, about 181 days, 14 hours, 58 minutes and 30 seconds from this time of writing til we can consider launching! Not that I'm counting.


2. The North Channel

As mentioned above, we spent the summer sailing the North Channel. Covering hundreds of miles, we still only scratched the surface. Communities along the North Channel are few and far between. But these small communities have lots for visiting sailors to see and experience.

In Little Current, we sat in with Roy Eaton for one of his daily Cruiser Net broadcasts – what a great time!
(Little Current harbour at night)
The small village of Kagawong is just a short walk from the beautiful Bridal Veil Falls. It is also home to the Manitoulin Chocolate Works – a point not lost on my chocolate-addicted crew!
(The busy harbour of Kagawong)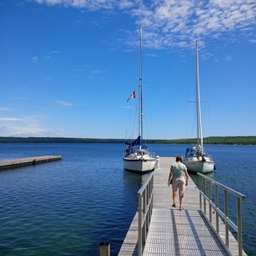 Gore Bay put on one of the best Canada Day fireworks that I have seen in years. And their antique shop yielded up some treasures as well.

The small village of Meldrum Bay is home to the Meldrum Bay Inn where we had an outstanding dinner in a cozy dining room shared with sailors cruising from the United States.

In Detour Village, you can sit on your deck and watch the non-stop parade big lakers passing by on their journeys up to Duluth and down to the industrial heartland of North America.
(DeTour Village Marina)
We took a walk to the outdoor botanical gardens at the south end of the village and discovered a beautiful, quiet oasis.

In Thessalon, we enjoyed a simply beautiful public marina clubhouse and Blind River will forever be associated with the 3 river otters that called our slip home for one entertaining night as they frolicked til well past midnight.

The North Channel is replete with anchorages. There are, of course, the well-known and popular anchorages like the Turnbull Islands, and the Benjamins. Make no mistake, these are beautiful. But, by no means are places like these the only anchorages to experience. And you don't need to limit yourself to anchorages marked on your charts. There are literally hundreds of little coves and inlets where you can drop an anchor and enjoy a quiet, peaceful night with maybe only 1 or 2 other boats silently riding at anchor some distance away.

Over the next few months, I will be adding some of these harbours to the website.


3. World Wind Map

I may have posted this in the past but this neat illustration of the earth's dynamic wind flows never fails to captivate me. It can be found here: World Wind Map


4. Sailing Library

Scuttlebutt Sailing News is a major news and commentary website devoted to the sailing community. It's focus is North America. It was started in 1997 as an e-newsletter and, as the internet developed, launched its website in 2003. Among its many pages is this link to the Scuttlebut Library , a great sailing library. Check it out. And, if you see something that appeals to you, know for sure that you can get it from The Nautical Mind – one of the most complete nautical bookstores in North America. You will find links to their on-line store on our Lake pages which you can access from our Home Page


5. The Romance of the Sea – Traditions, Customs and Sayings

Here are some terms that on first glance would not appear to be drawn from the nautical world. However ........

Cash on the Nail or Cash on the Nail Head are euphemisms for immediate payment. In the English seaport of Bristol, there were 4 brass pillars or 'nails' erected in front of the Council House in 1552. Merchants would negotiate business at them and cash payments were made literally on the Nail. They still stand to this day.

Blazer

In the mid-19th century, it was naval custom for a Captain to outfit his own crew. There was no standard uniform. For example, the Captain of HMS Harlequin outfitted his men in a harlequin-pattern. The crew of HMS Caledonia were dressed in tartans and (you can't make this stuff up!), the crew of HMS Tulip wore a green suit with a yellow flower in their cap. But one of the most striking outfits was the sharp blue jacket that the crew of HMS Blazer wore. They became known as 'blazers' and the jacket, a blazer.

Government

The Latin translation of the Bible is called the Vulgate. In it, the word for 'rudder' is gubernaculum which comes from the Latin verb 'guberno' meaning to steer. Thus, our word 'government' comes from the Latin for a person who steers.

And finally .....

Lassie

In 1915, HMS Formidable was sunk by a U-Boat off the coast of England. Many hours latter, fishermen found a body washed ashore and carried it to a nearby pub. The body was laid out on the floor and covered with a sheet. Strangely, the landlord's dog pulled the sheet away and made a great fuss, including licking the body's face. Upon closer inspection, the sailor was found to indeed be alive. Years later, this inspired a Hollywood movie about a hero dog. They named the dog after the survivor, John Lassie
---

Thanks for reading Rhumb Line. Your opinions, thoughts and comments do matter. If you have any comments or questions, please feel free to contact me here at Rhumb Line or at Great Lakes Sailing.

If you like this newsletter, please do a friend and me a big favour and "pay it forward."

If a friend DID forward this to you and if you like what you read, please subscribe. You will find a subscribe button on most pages of the site.


Fair winds and following seas.

Michael Leahy, Publisher
---