Rhumb Line
a course that keeps a constant bearing

---

The Rhumb Line for Great Lakes Sailing is clear: to provide a comprehensive listing of ports around the Great Lakes basin and articles that cover a broad range of topics of interest to sailors.

The purpose of Rhumb Line is to keep you up-to-date with new additions to Great Lakes Sailing in a brief, easy-to-scan and concise manner. I value not only your interest but also your time.


---
March 2014 New at Great Lakes Sailing

In mid-March, I had the opportunity to make a presention about the Great Lakes to the Nepean Sailing Club in Ottawa. The Club runs a well-attended weekly speakers program January to April. It was an enjoyable event and I met a number of interesting people who, I hope, have a greater appreciation of the beauty of the Great Lakes. More importantly, I hope there is an increased desire to get out, cruise and explore these fabulous inland seas.

Four new ports have been added – Cape Vincent, NY, Chagrin River, OH, St. Clair Shores, MI and Hessel MI.

If you like History, there is a fascinating story about how Napoleon Bonaparte could have ended up living on the Great Lakes - True!

There is an update about the St. Lawrence Seaway.

There is also a sobering reflection on the extent of an enviromental catastrophe on the Great Lakes.


---
1. New Ports

(a). Cape Vincent, NY is at the very eastern end of Lake Ontario, where the Great Lake's waters begin to pour into the mighty St. Lawrence River. This village has a unique connection with momentous events that were occurring far away from its quiet streets. Click here to visit Cape Vincent, NY

(b). Chagrin River, OH is a small harbor on Lake Erie about 20 miles east of Cleveland. However, with about 1,000 slips, it certainly is a popular place for sailors to visit. Click here to visit Chagrin River, OH

(c). St. Clair Shores, MI is located on Lake St. Clair, in the northern suburbs of Detroit. The marinas are clustered between 9 Mile Road and 10 Mile Road – known locally as the Nautical Mile. The Nautical Mile has nearly 3,000 slips and constitutes one of the densest concentrations of marinas, marine service companies and boatyards on the entire Great Lakes. Click here to visit St. Clair Shores, MI

(d). Hessel MI is a pretty little village on the north coast of Lake Huron. It is located adjacent to the 36 island group known as Les Cheneaux and is a perfect stop-over point for sailors on their way to the North Channel or to the Straits of Mackinac. Hessel, MI



2. A Fascinating Piece of History

They say truth is stranger than fiction. Many people love historical fiction. Many more are avid followers of TV scripts that fray the boundaries of common sense. However, I have a short tale for you that is firmly rooted in fact and, when the consequences are considered, truly beggar the imagination.

During the War of 1812, the British and Canadian soldiers were run ragged in their ultimately successful efforts to defend the sprawling boundaries of Upper Canada. The American forces that were repulsed in their invasion efforts none-the-less were large and indeed grew into the huge army that fought in the Civil War. Now imagine that into the middle of that uneasy border tension came Napoleon Bonaparte and 1 or 2 of his generals – firmly on the side of the American army. Would there be a backwoods Wellington to defeat him again? If not, what could have happened?

Let me introduce Jacques Donatien Le Ray de Chaumont – a man historians refer to variously as the Father of the American Revolution and the Enabler of the French Revolution.

Jacques Donatien Le Ray was probably the wealthiest man in France in the late 1700's. He was a businessman and courtier at the court of Louis XVI. He owned, among many other assets, the fabulous Chateau de Chaumont in the Loire Valley of France. When the United States declared independence, Benjamin Franklin led a diplomatic mission to seek support from the French government. Le Ray provided absolutely vital help, ranging from quarters for Franklin, interventions with the king resulting in huge amounts of money and war materiel and, among other things, a French merchant ship converted to a warship named the Bonhomme Richard which was placed under the command of John Paul Jones. For his tremendous help to the fledgling American government, Le Ray is often referred to as a "Father of the American Revolution".

Following independence, Le Ray purchased 800,000 acres of land, a tract that extends from the present day US army base Fort Drum in upstate NY to the town of Chaumont, NY and including Cape Vincent NY. The family mansion is now the VIP center at Fort Drum.

After the French revolution, Le Ray and a number of French friends, (including some of Napoleon's generals), planned to liberate Napoleon from his prison on St. Helena Island. The plan was to bring him to Le Ray's estate surrounding Cape Vincent. Unfortunately, Napoleon died before the plan could be put into effect. Just think of the reaction of the British and Canadians a few short miles away in Kingston!

Inagine how Napoleon's presence on the shores of Lake Ontario could have influenced North American history.



3. St. Lawrence Seaway

This year sees the latest opening of the St. Lawrence Seaway in 5 years. The Welland Canal opened last Friday and the locks near Montreal opened this past Monday. The Seaway authority expects to see 38 million tonnes of goods shipped through, an increase of about 3% over last year. Remember, the traffic in the St. Lawrence Seaway exceeds that of the Panama Canal AND the Suez Canal combined.

The Seaway authority will invest $100 million this year on upgrades and an additional $400 million over the following 3 years. A 'hands-free' mooring system which is already in place in Quebec will be extended throughout the entire system. Eventually, all locks will use a suction cup system for securing vessels instead of the lines in use today.



4. Weather Charts

Weather is oxygen to sailors. Everything we do involves some aspect of weather. One of the finest websites for weather is NOAA. NOAA is the United States' National Oceanic & Atmospheric Administration. It is probably the the most complete place for weather related information, including the Great Lakes.

Among NOAA's many 'bodies' is the Great Lakes Environmental Research Laboratory (www.glerl.noaa.gov/res/glcfs).

If you go to that page, you will find an index of information for both the Great Lakes as a whole and for each individual lake. The information includes air temperature, winds and waves and much more – all shown as dynamic charts/maps. Using a free program such as PhotoScape, you can take a screen shot of a current weather chart, download it and print it if you wish.

It is truly a wealth of information. Go check it out.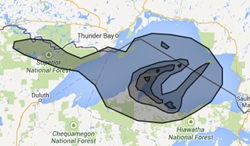 5. BP Gulf Spill & the Great Lakes

Often when we hear of a catastrophe in a distant location, it can be hard to put it into a perspective that has relevance to each of us. The BP Gulf Oil spill was the largest oil spill in history. It was a catastrophe that has so far cost over 40 billion dollars. To put the spill into perspective, if it happened on the Great Lakes (drilling for oil on the Great Lakes is not permitted), it would completely engulf Lake Superior. It would swallow the other Great Lakes.


---

Thanks for reading Rhumb Line. Your opinions, thoughts and comments do matter. If you have any comments or questions, please feel free to contact me here at Rhumb Line or at Great Lakes Sailing

If you like this newsletter, please do a friend and me a big favor and "pay it forward."

If a friend DID forward this to you and if you like what you read, please subscribe. You will find a subscribe button on most pages of the site.


Fair winds and following seas.

Michael Leahy, Publisher
---