Rhumb Line
a course that keeps a constant bearing

---

The Rhumb Line for Great Lakes Sailing is clear: to provide a comprehensive listing of ports around the Great Lakes basin and articles that cover a broad range of topics of interest to sailors.

The purpose of Rhumb Line is to keep you up-to-date with new additions to Great Lakes Sailing and articles of interest in a brief, easy-to-scan and concise manner. I value not only your interest but also your time.



---
February 2021
New at Great Lakes Sailing
1. The Store
2. New Pages
3. Toronto Boat Show
4. Water Levels
5. St. Lawrence Seaway
6. Water Diversion from the Great Lakes Basin
7. The Romance of the Sea – Traditions, Customs and Sayings

---

1. The Store

With spring launch coming up, don't forget to check out our online store. Great products at competitive prices. New items are added regularly.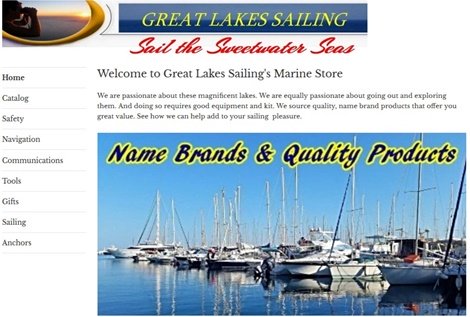 The store can be accessed directly from the website. You can also access it here at The Store . I hope you will drop by and check us out. We have added some new items, particularly in the gift section – interesting, unique and definitely high quality.


---
2. New Pages

One of the pleasures inherent in cruising is good food and enjoyable meals. When we began cruising, Catherine stated that we would eat as well on board as we did at home – not the same, mind you but as well as. And believe me, that goal was achieved!

Recently, Catherine was going through her extensive recipe collection and we looked at recipes new and old. Naturally, the conversation included references to our galley on board our own boat. The emphasis was not only on taste and nutrition but also simplicity and ease of preparation.

We all know that our galley on board is not the same as our kitchen at home. Space is severely limited. Say goodbye to thoughts of side-by-side fridge/freezers, counter-top, built in electric ranges, etc. Preparation space is at a premium. So is food storage space. Many of your favourite electric appliances will be unavailable. In addition, the local supermarket likely isn't a quick walk or drive away. And, the variety you expect at home may simply not be available in small villages and communities.

If your cruising, like ours, takes you into more remote areas where anchoring is your only option, you have to be completely self-sufficient from the time you leave your dock.

BUT, that doesn't mean you have to sacrifice! It just means you have to adapt. And adapting is second nature to sailors. Recipes can be simpler but just as flavourful as ever. Meal preparation can be simpler too – there was life before food processors! Creativity does not have to be limited to your kitchen at home.

So .... I have decided to boldly go where neither I nor anyone who knows me well ever thought that I would venture – the kitchen and more specifically, recipes!! Over the spring, I will be adding recipes that are simple to make, nutritious and delicious. Watch for them and consider trying some out ahead of your launch.


---

3. Toronto Boat Show

This year, the Toronto International Boat Show was entirely virtual. I think there may have been a lot of apprehension about how well that would go. No need to worry though – the Show was a terrific success.

Over 35,000 registered, seminar attendance exceeded 19,000 and page views exceeded 1.3 million! We will likely see a lot more boaters on the water this summer too. Transport Canada issued a record number of Pleasure Craft Operator Cards (PCOC) in 2020, an increase of approximately 75% over 2019. From personal experience in the Canadian Coast Guard Auxiliary, 2020 was one of if not the busiest SAR seasons we have ever had. (Note: - 'busy' is not a goal to which we aspire!).

To the many readers of this newsletter and the website who joined me in my seminars, I want to say 'Thanks". It sure was a different experience sitting in my home and talking to audiences of several hundred without seeing anyone. The inevitable computer glitches were solved quickly and from the feedback I received, my seminars were well-received.


---

4. Water Levels

Going into February, we saw the lowest ice accumulation on the Great Lakes in half a century, according to the Canadian Coast Guard. During the month, the ice cover did increase. From 7.2% coverage at the end of January, it has increased to 12.9% coverage as of the end of February. Typically, coverage at this time of year would be 50-55%.

This reduced ice cover has widespread implications including significant shoreline damage in the winter months, increased runoff and spring flooding to name a few. These effect not only our environment but also our wallets. Someone has to pay for the damages caused by wild swings in climate on the Great Lakes.

For sailors, we are also concerned about depths. As of the end of February, the US Army Corps of Engineers have projected that all of the Great Lakes, with the exception of Lake Ontario. will be at levels below last years levels. Lake Ontario is projected to maintain the same levels. Despite the fall in levels, all lakes will remain above chart datum.


---

5. St. Lawrence Seaway

Robins are not the only harbingers of spring. On Feb 15th, the Great Lakes- St. Lawrence Seaway Development Corporation announced the opening date for the 2021 Great Lakes-St. Lawrence Seaway System navigation season. According to Seaway Notice No 1, the Welland Canal will open Mar 19th, the Montreal / Lake Ontario section Mar 22nd and the Soo Locks on Mar 25th. The caveat of course is "subject to weather and ice conditions". Maximum allowable depths are set to 80 dm / 26'3".

Click here for more information about St. Lawrence Seaway and the Soo Locks.


---

6. Water Diversion From The Great Lakes Basin

One of the abiding concerns is the continual degradation of the Great Lakes. This natural wonder that we all enjoy is vital to the well-being of our continent. Whether for the essentials or quality of life of the 40 million people who live around them, for the vital transportation links it offers, the multi-billion dollar fishing industry and many many more aspects, the Great Lakes touch the lives of all of us.

Among the many ways governments have acted to try and protect the integrity of the Great Lakes and its basin is the 2008 Great Lakes Compact. This is a legally binding agreement between the 8 Great Lakes states that was ratified by the U.S Congress. The Canadian Provinces of Ontario and Quebec participate fully in the Compact as well through a parallel agreement.

On the surface, (pardon the pun) it appears that this Compact ensures that water can only be removed from the Great Lakes Basin under very limited and strictly controlled conditions. However, (to continue the pun), there is a 'leak' in the Compact. That leak is Illinois which has certain exemptions. And those exemptions have once again come into play.

Without going through a lengthy discussion, it is sufficient to note that Chicago City Council agreed on Jan 28, to sell up to 60 million gallons a day to the City of Joliette IL which lies outside the Great Lakes Basis.

For a detailed discussion and explanation of this decision and its impact on the Great Lakes,here is a link to the article in the Chicago Sun-Times.

For a fuller explanation of the background and effects of these diversions, here is a link to an excellent article published by Meg Fredericks who is pursuing her Masters of Urban Planning and Policy at the University of Illinois at Chicago.


---

7. The Romance of the Sea – Traditions, Customs and Sayings

One of the things that I have always enjoyed about sailing is how so much of what we say and do today is bound up in the language, customs and traditions of long ago.

Bowditch: This noun is a household word among navigators around the world since the beginning of the 19th century. It is the familiar name given to a textbook jam-packed with tabular data that was (and still is) vital for navigators in their work. It is named for Nathaniel Bowditch, an American mathematician and sailor. His book was first published in 1802 under the title The American Practical Navigator. It has been continuously maintained and updated, first by the U.S. Hydrographic Office and, since 1868, the U.S. Navy. (I do have an up-to-date copy of it – it's 1200+ pages and comes in 2 volumes. This is an authorized and freely available set and if anyone would like a copy, just send me an email.)

Burgee: Now the term for the flag or pennant for a yacht to yacht club. In years past, it was the flag or the company or owner of a ship – also referred to as a 'house' flag. Its use dates from the early 17th century, likely in Ireland as the Royal Cork Yacht Club is the oldest yacht club and thus her burgee is the oldest club burgee. The term originates from the French word bourgeois which had an early meaning of master or owner.

Buttock: The rounded part of a ship's stern. It comes from the Middle English word buttok meaning 'end piece' Whether the word applied strictly to ships or also to anatomy is uncertain but we will leave that for another time.

Buys Ballot's Law: Named after Christophorus Buys Ballot, a Dutch meteorologist in the 19th century. Buys Ballot's Law says that, in the Northern Hemisphere, if you stand with your back to a wind and extend your left arm directly out from your side, you will be pointing at the centre of the Low pressure zone. Knowing where the Low is centred and what your position is relative to its centre can be very useful in your planning. In the Northern Hemisphere, winds blow counter-clockwise around a Low. Winds will blow generally parallel to isobars, so seeing where you are located relative to the movement of the Low will give you some insight into how the winds are going to change as it passes.

Cable: Has two meanings. 1) an anchor line (chain or rope). It comes via French from the Latin capalum or halter. 2) a measurement of distance at sea, originally 720 feet or 120 fathoms which was the standard size of an anchor cable from the 16th to 19th centuries. Now it has been generally standardized to mean 100 fathoms or 1/10 of a nautical mile.

Can Buoy: A cylindrical buoy with a flat-topped cylindrical shape above water, marking the side of a channel leading into a harbour, green or black in North American waters. Believed to have originated from the Anglo-Saxon and later Middle English word canne meaning a straight-sided drinking vessel or tankard.


---

Thanks for reading Rhumb Line. Your opinions, thoughts and comments do matter. If you have any comments or questions, please feel free to contact me here at Rhumb Line or at Great Lakes Sailing.

If you like this newsletter, please do a friend and me a big favour and "pay it forward." If a friend DID forward this to you and if you like what you read, please subscribe. You will find a subscribe button on most pages of the site.

In the meantime, I wish each and every one of you good health and everything that I would wish for myself and those I love.

Fair winds and following seas.

Michael Leahy, Publisher
---