Rhumb Line
a course that keeps a constant bearing

---

The Rhumb Line for Great Lakes Sailing is clear: to provide a comprehensive listing of ports around the Great Lakes basin and articles that cover a broad range of topics of interest to sailors.

The purpose of Rhumb Line is to keep you up-to-date with new additions to Great Lakes Sailing and articles of interest in a brief, easy-to-scan and concise manner. I value not only your interest but also your time.


---
Spring 2020

New at Great Lakes Sailing



1. Update

2. New Ports

3. St. Lawrence Seaway

4. COVID-19 and Sailing

5. Great Lakes Marine
---

1. UPDATE

Its been a number of months since I have written anything in Rhumb Line. The press of other obligations took me away and as time went on, it became harder to get caught up.

But, with all that's going on, I felt it was time to put pen to paper. I suspect that there will be lots of time now to create and write.
---

2. NEW PORTS

I have been working on some new port additions which I hope to have up shortly. There are many small anchorages and places off the beaten path that are worth exploring. What they lack in amenities, they more than make up for in simple beauty.

Several have been suggested by readers so look for them in the near future.
---

3. The St. Lawrence Seaway

A sure sign of spring is the annual opening of the St. Lawrence Seaway.

On March 24th the St. Lawrence Seaway marked the opening of the Seaway's 62nd navigation season with the transit of the NACC Argonaut through Lock 8 on the Welland Canal. NACC Argonaut is a Canadian-flagged cement carrier and is owned by NovaAlgoma Cement Carriers (NACC), a 50/50 joint venture company between Algoma Central Corporation and Nova Marine Holding SA of Luxembourg

In Thunder Bay, the first ocean-going vessel, mv TUFFY, arrived on April 10th to take on a load of grain destined for Italy. TUFFY is owned by Montreal-based Canfornav, one of the largest ocean-going carriers sailing the Great Lakes on a regular basis with cargoes to or from worldwide destinations.

In both cases, the normal celebrations were skipped because of the COVID-19 outbreak, But, as the days get longer, those of us who live along the coastlines will see more and more of the freighters who use this lifeline to bring the raw materials and goods from the centre of our continent to the world.
---

4. COVID-19 and Our Sailing Season


For many of us, this used to be our reality every summer.





Sadly today, this is the reality confronting us today as we face an uncertain future.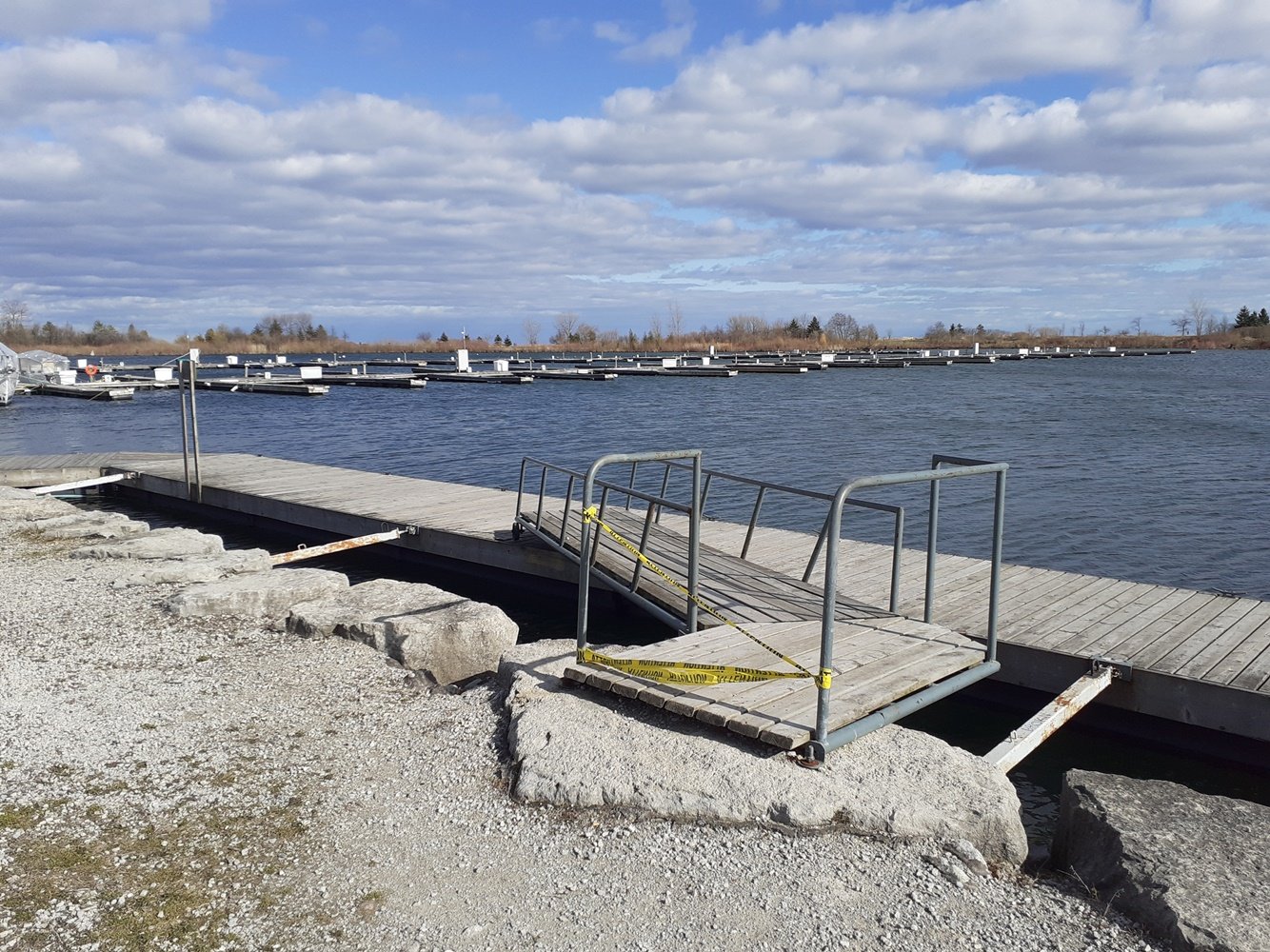 The COVID-19 / Coronavirus has wrecked havoc across the world and our region, the Great Lakes basin, is no exception. In my province of Ontario, all yacht clubs and marinas are closed. Obviously, each of the Great Lakes States will have their own regulations which each resident sailor is responsible to know.

I am sure that by now most (unfortunately not all) realize just how deadly this infection can be. The only way to be really safe is to reduce physical contact as much as possible and wash our hands like never ever before!

I have included some links to authoritative websites – all either Federal / Provincial Agencies or Ministries of Health or State Departments of Health. These are authoritative. Avoid the suspect, suspicious and simply untrue information circulating 'out there' on social media and the internet. That garbage can kill you or a loved one.

Yes, there are slight variations in some of the messages from these various authoritative sites but the overall message is clear - reduce physical contact as much as possible and wash our hands like never ever before!

Here are the sites:

Government of Canada - Public Health Agency of Canada: PHAC
Government of the United States - Dept of Health and Human Services: HHS
Province of Ontario Ministry of Health: Ontario MoH
New York State Department of Health: New York DoH
Pennsylvania Department of Health: Pennsylvania DoH
Ohio Department of Health: Ohio DoH
Michigan Department of Health and Human Services: Michigan DoHHS
Indiana State Department of Health: Indiana DoH
Illinois Department of Public Health: Illinois DoH
Wisconsin Department of Health Services: Wisconsin DoHS
Minnesota Department of Health Minnesota DoH



As sailors, we are used to taking our responsibilities seriously to keep our vessels, our crew and our guests safe. Let's continue that tradition.

This is also a once-in-a-lifetime opportunity to rise to meet an occasion. Tom Brokaw famously called the men and women who faced down the threat of tyranny in WWII "the greatest generation. And they were. I personally know several and have one of those in my family. They faced an existential threat to freedom. And they persevered.

This is our moment. The foe is different. The call to us is the same. Lets look after each other. If you belong to a closed yacht club, consider organizing a weekly call to members who may be feeling the walls closing in on them from being at home, possibly alone. Maybe a weekly email newsletter with tips about sailing or maintenance or neat destinations in your particular area. There is no shortage of inventive ideas that can be employed to safely help each other

Each of these small actions serve to build community. So when we emerge from this, as we will, our clubs and our relationships will be intact and stronger

When they write the record of this pandemic, as they will, let the next Tom Brokaw record that we rose to this challenge in the same manner as did that "greatest generation".


---

5. Great Lakes Marine

For the past several months, I have been working on a new project. But first, a little background is in order. I originally started Great Lakes Sailing as a way to

1) organize all of the 'stuff' I had accumulated over the years around my sailing and Coast Guard Aux. experiences and
2) to learn how to build a website.

Over time and with a whole lot of trips down blind alleys, Great Lakes Sailing was born. And that has been a very satisfying experience. And its gratifying that hundreds of thousands come to the site.

Fast forward to last summer. Last summer, I had a very frustrating time with repairs and more especially parts – sourcing them, getting them up to me where our boat was tied up, dealing with wrong items sent, poor customer service, etc., etc. To say that I was annoyed at times is a serious understatement!

One promise I made to myself was to develop a small list of suppliers that I could count on. Someone asked me in the autumn how my 'list' was going and would I put it up on the website. I considered doing that but hesitated. What would happen if a supplier dropped the ball – I suspect the finger might end up pointed at me so I declined. But the idea stuck.

Sooooo, after several months of toying with the idea and looking into it, I made a decision.

My next project is to open a store on Great Lakes Sailing .Not a huge, 10,000 product warehouse-style store but perhaps a more boutique-style shop. The products will be name brand, high quality and very reasonably priced.

Over the past few months, I have been able to source hundreds of products and all of them are sourced in the United States or Canada. And they are available at very competitive prices!

No waiting weeks and weeks for products making their way from China or customer service that says "Sorry we sent the wrong part – unfortunately no refunds on that item"!

Putting this together is a work-in-progress but I hope to have it up and running by month end.

Like Great Lakes Sailing , it will start small (Great Lakes Sailing began with 10 ports and 4 articles) Over time, though, my goal is that it will be carrying a wide range of marine products at very competitive prices.

Watch for the launch of Great Lakes Marine – a new part of Great Lakes Sailing.

Great Products at Great Prices
---

Thanks for reading Rhumb Line. Your opinions, thoughts and comments do matter. If you have any comments or questions, please feel free to contact me here at Rhumb Line or at Great Lakes Sailing.

If you like this newsletter, please do a friend and me a big favour and "pay it forward."

If a friend DID forward this to you and if you like what you read, please subscribe. You will find a subscribe button on most pages of the site.

In the meantime, I wish each and every one of you good health and everything that I would wish for myself and those I love.

Fair winds and following seas.

Michael Leahy, Publisher
---